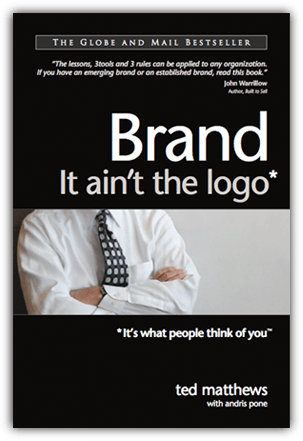 Excerpt: [2] What "Brand" really means
The Only Synonym for "Brand" is "Culture"
In organizations that understand Brand, it drives every goal, informs every decision and shapes every message. These organizations establish a Brand Foundation describing precisely who they are, what they do, what they stand for and how they act. In other words, they define their culture. Which is why we say that the only synonym for "Brand" is "culture."

A clear, consistently articulated Brand is much more than marketing. It holds the principles around which your entire business is organized. Take Staples, the office supplies store, for example. When people think about Staples, chances are they think of the "Easy Button." That's because Staples has organized every aspect of their operation around the single, simple concept of making it easy for their customers to do business with them.

Staples ditched their ceiling-scraping shelves and dizzying array of products – because their market research told them that business owners don't have time to climb up product displays and they don't need 50 pens to choose from. Staples made it easy to shop on their website and ensured free, next-day delivery on orders of $50 or more.

In the six years after Staples focused their Brand around "easy," profit skyrocketed 1000%, from $100 million to $1 billion – double the rise of Office Depot's profit over the same period.

Excerpt: [3] Be remark-able
Created in 1998 by Chip Wilson, Lululemon designs, produces and sells yoga-inspired athletic wear through its own stores across North America, Australia, New Zealand and China. This Brand was built on the simple and indisputable notion that women will buy clothing that makes their bodies look absolutely fantastic. Then add the Lululemon Manifesto, which offers mantras like "Colas are NOT a substitute for water. Colas are just another cheap drug made to look great by advertising."

Lighthearted statements like "Dance, sing, floss and travel" accompany the Coke diatribe to portray a worldview that's one part Deepak Chopra, one part Michael Moore. The colorful, beautiful products are well thought out, well made and sold by genuinely nice people. The entire experience is a Brand broadcast that allows the perfect consumer to self-identify, connect with the culture, buy and start telling the Lululemon story to others.

Lululemon's remark-ability has almost completely removed the need for them to advertise. Here are some remark-ably astonishing facts for you to consider: a full-page ad in a major national newspaper costs in the area of $30,000; in 2006, when Lululemon was capitalized at $191 million, the company spent a total of just $37,000 on advertising; the next year, Chip sold 48% of the firm, which went public and grew by a factor of 41 – to $7.74 billion – over the next four years.
Excerpt: [4] Own a position
Quiznos' Position: Toast(ed)
Only a handful of Brands have the strategic genius to stake out a position that is truly meaningful and memorable, along with the discipline to communicate it with relentless consistency. Quiznos used to be one of them.

Think Volvo and "safety." Think Subway and "healthy." These quick and easy, single-word associations are extremely rare. They are priceless corporate assets that give these smart Brands a huge advantage over the great majority of competitors whose points of difference are less clear.

Now, what comes to mind when you think of Quiznos? For most people, it's "toasted." It's a position Quiznos has steadily conveyed through positioning statements like Toasted tastes better. Their complete ownership of the toasted position even alarmed Subway – which has twenty-five thousand more stores – into installing toasting ovens.

But Quiznos turned its back on toasted by introducing a new positioning statement: Love what you eat. What meaningful Brand position does that reflect? That Quiznos offers great-tasting food? It's not exactly a unique approach in a category that's about indulging your appetite.

But wait, you might say: Subway's ovens forced Quiznos to change position. Nonsense. Most Brands have offerings similar to their competitors. Consider that Volvo is hardly the only automaker talking about safe cars – they've just had the discipline to live their safety position more consistently than anyone.
Excerpt: [5] A Brand's Worst (and Next Worst) Enemies
The enemies of Brand consistency lurk everywhere. Worst are "old friends" – the people inside the organization who are so tired of their own messaging, they assume everyone else is too. Old friends will agree to any new Brand message ideas that come along, just to get away from their same old Brand position or incessant jingle. They're the people at Coca-Cola who are sick and tired of giving (or receiving) another red t-shirt; the folks at Energizer who'd just as soon blow up that bunny as see him or hear his beating drums.

MasterCard has done a fine job of keeping the inevitable old friends in check. The Brand's "Priceless" advertising campaign was launched in 1997 ("There are some things money can't buy. For everything else there's MasterCard"). Created by McCann-Erickson, the Priceless ads have been seen in more than 100 countries and translated into 50-plus languages. The spots don't just enjoy incredibly high awareness; they've embedded MasterCard into the popular culture. Some people actually spend their time writing jokes and piecing together funny videos that build up to the "Priceless" punchline. Maybe you've received one in your email inbox, or visited YouTube.com – where a search for MasterCard spoofs yields hundreds of results.
Excerpt: [6] Build a Brand Foundation
A written and unchangeable Brand Foundation communicates clearly to all stakeholders – potential and actual employees, customers, investors, strategic partners, acquisition targets and suitors, the media, everyone – what the Brand stands for. It articulates the Brand's essential components, acts as a single, constant point of reference and drives consistency on everything from employee recruitment to the wording on your website to the color of the paint on your walls.

No founder or CEO runs an organization that exists solely to make lots of money. Even for the richest of the rich, it's always about something greater than that. In Built to Last, Jim Collins refers to a BHAG (pronounced BEE-hag), or Big Hairy Audacious Goal. That's what the core purpose is all about. Think Big. Think Hairy. Think Audacious.

Having a BHAG is more important than ever, because North Americans are less happy than ever. Happiness has been in steady decline since it peaked in the 1970s, and according to a study conducted by the London School of Economics, only 32% of North Americans are content. People reported being least happy during their commute to and from work and while at work – which means they're unhappy for at least half of their waking lives.

Happiness doesn't depend on acquiring more stuff anymore. Especially for younger members of the workforce, receiving a paycheck just isn't enough to guarantee a great life. The new generation is in pursuit of meaning, and at the heart of a meaningful life is meaningful work. Be prepared to explain how your organization fits this bill.
Excerpt: [8] Marketers: Surrender Your Brand
Every time your Brand comes in contact with your employees, customers and all the other stakeholders out there, they judge you. This means that all the hard work and all the money that marketers spend on advertising and promotion is pointless if the entire organization isn't out there every day doing what these communications say it will.

The marketing managers I talk to often feel ineffective and frustrated, because without the permission of the CEO, trying to get everyone in their organization to fulfill the Brand promise is next to impossible. They can walk down to the loading dock to chat with the transport manager about painting the trucks in Brand colors – because the trucks are a fantastically effective way of getting the Brand message out there – but the transport guy will protest that he'll have to wash the trucks and paint them when it's time to sell them. He doesn't "get it" because the CEO hasn't explained to him how important his job is in the context of the Brand.

Beyond Paid Bragging

When I talk about CBO leadership, the marketers quickly see the positive implications: "You mean you're going to get me permission from my CEO to permeate Brand thinking into every nook and cranny of this organization? You mean I can be more than just the logo cop?"
Excerpt: [9] Listen to Your Stakeholders
The ThinkAudit is a simple but highly effective qualitative research technique that draws its strength from the diversity of stakeholders engaged in a brief but candid dialogue about the Brand. On the subject of candor, it's essential that an objective third party conduct the ThinkAudit. Almost always, stakeholders want to help. But equally, they are rarely candid with the Brand owners themselves. Customers, for example, will almost inevitably have at least some issues with your organization and are actually grateful – sometimes downright relieved – for an opportunity to speak anonymously about it.

The ThinkAudit has elements in common with 360˚ feedback, the method by which employees and managers in a business unit rate each other's performance. But as you'll see, the ThinkAudit yields much richer, more actionable data.

360˚ Feedback is More Like 120˚ Feedback

One-on-one interviews are scheduled between Brand Coaches and stakeholders drawn from three categories – employees, customers and strategic partners. Within each of these categories are people with different perspectives based on their role and relationship with the Brand and length of tenure – new, mid-term, long-term and departed. The ThinkAudit thereby creates what we call a holographic image of stakeholder opinion (a holograph being a three-dimensional image projected in empty space by a series of lasers situated at different angles around it). Compared to the ThinkAudit, 360˚ feedback is more like 120˚ feedback – because of its reliance on opinions from just one stakeholder group: employees.
Excerpt: [11] Branding is a Process, Not an Event
The Super Bowl School of Branding introduces deadly inconsistency to your Brand. It also professes that Brands can be built in one fell swoop. Unfortunately, it takes more than 30 seconds to establish a relationship with stakeholders and earn their trust.

As tools of self-defense, Brands allow trusting stakeholders to ignore the marketing activities of other products and services and save mindshare for other, more important things. But when marketers change the message, they risk losing the attention and trust of stakeholders – and the stakeholders themselves.

While very, very few marketers will ever even come close to running an ad during the Super Bowl, they will all have moments of temptation. Temptation to do something out of their Brand's character for a special occasion. Temptation to say something different because their competitors are. Temptation to change what they stand for just because they're bored and assume everyone else is.

If you want your Brand to flourish, you've got to resist.
Excerpt: [12] Deliver Great Experiences
Every time someone comes into contact with your Brand, one of two things happens.
1. Brand equity is created.
2. Brand equity is destroyed.

Your Brand has made certain promises to everyone who's aware of it. If the experiences people have with your Brand are consistent with those promises, Brand equity – defined as the retained, positive thoughts of stakeholders – gets a boost. If the experiences don't measure up, those positive thoughts deteriorate.

Brand "touchpoints" are the many situations in which all the people out there hope to experience your Brand promise. Organizations that use their Brand as a central operating principle and who have a Chief Brand Officer – vs. simply a CEO – use every single touchpoint to deliver an experience that reinforces the Brand.

I love telling the story of one particular visit to DMD, the very successful retail design company owned by designer David Milne. DMD has created customer experiences for a diverse range of clients including Loblaws, Nike and Victoria's Secret. During my tour, David inspired me with a little sidebar about Apple computers:

I always insist that my staff wait for me to open any box with new product we buy from Apple. I just love their packages. Every graphic, every packing piece is beautiful and well thought out. Everything fits and is presented as a piece of art. Even their Styrofoam is beautiful! And finally, when you unwrap the computer itself, it is beautiful. The whole thing is a wonderful experience.
Excerpt: [14] Be the Mythographer
But all of the well-intentioned printing, framing and verbal recounting of formal Brand components – be they corporate values, vision statements, quality measurements, whatever – won't have the same clarity, viral potential or power of those ingrained in stories.

Stories Are Better Than Facts

As Daniel H. Pink writes in his fascinating book, A Whole New Mind, stories are easier to recall than facts: "Stories are easier to remember – because in many ways, stories are how we remember18." A list of corporate values is a list of facts. A mission statement is a statement of facts. But in an age of hyper-messaging, when we have an infinite number of facts at our fingertips, facts risk losing their power: "What begins to matter more is the ability to place these facts in context and to deliver them with emotional impact19."

By Telling Stories

Pink borrows from the observation of E.M. Forster to tell us that "a fact is 'the queen died and the king died.' A story is 'the queen died and the king died of a broken heart20.'"

Some very big organizations understand the power of stories21. At 3M, top executives get storytelling lessons. Knowledge management programs at NASA use storytelling. Xerox realized that its repair people learn about fixing different machines by swapping stories with their colleagues – not by reading repair manuals. So the company organized these stories into a database, called Eureka, estimated by Fortune
Excerpt: [15] Great Names Mean Business
Job 4: Be Distinct

Your Brand is unique. Your name should be too. So please don't add to the infinite number of names that copycat Apple's system of names starting with i. Same goes for anything ending in -ia, -opia, –licious or –city, which were inspired by the likes of Expedia, Fruitopia, Bootylicious and Travelocity, but have now been done. To death. They're just not differentiating anymore. If you have any names like these on your shortlist, cross them out or risk sounding stale and contrived.

Fact is, distinctiveness is a seriously high bar when you consider that the name you want, even if it's a word you (think you) made up, is probably already in use by someone else. This could present legal issues if you operate in the same industry or jurisdiction as your twin, but the challenge is even greater than that.

For example, now that we have the Internet and Google, people will find out that your ad agency in Ohio has the same name as an ad agency in Alberta (one that might even rank higher than you in search returns). Ad agencies are supposed to be creative, and a name that isn't unique knocks your brilliance down a notch. Even if you're not in a creative industry, your thoroughly thrashed-out Brand Foundation is supposed to have a strong difference, which implies a different name.
Excerpt: [18] Mine the Equity
I've always been dumbfounded that Ford doesn't do a better job of mining its Brand equity to establish a position that resonates powerfully with consumers. I mean, when you tell the story of the automobile, you start with Ford. They invented the category. The name of the guy running the company is right on the car. They used to have 100% market share. Who else has a story like that to tell?

Yes, it's true that Ford has started to rekindle America's love affair with the car. Some of this has been achieved by looking to the past – for example, by introducing a retro styling for their legendary Mustang. Fantastic.

The idea so connected with consumers that the other American automakers piled on. Chrysler copied Ford and brought out a retro-styled Dodge Charger. GM's Chevrolet followed suit with a redux Camaro.

But wait: rumor has it, Ford is going to change the Mustang again – to an "all-new, non-retro" design. What a horrible mistake. Message to CBO Mullaly: history works. At your fingertips are a bunch of great Brand positions to choose from: being first, invention, innovation or pioneering among them.
Excerpt: [19] Protect Your Brand
Be Opening Day Ready

Have a look around your office. Many of you have foliage that is withering or downright departed. I see it all the time when visiting prospective clients (because actual clients have to water their plants…it's in our contract). They're often in the reception area, right where visitors form their first impression of your Brand. It could very well be a symptom of a larger deterioration of your Brand's physical presence that represents your organization poorly – the tattered flag out front, the worn-down carpet, those paint chips on the wall, the disheveled visitor coat closet, the newsletter that used to go out every month but slipped by the wayside…

My most vivid recollection of dead plant syndrome is an experience at PICKSEED, a client that supplies grass seed and related consulting services for golf courses including one of the most celebrated 18 holes of turf on the planet – Georgia's Augusta National, home of the Masters. I went to PICKSEED's corporate headquarters for the first time and, naturally, expected that their lawn would be an immaculate thing of beauty. Instead I stepped out of my car to find a lawn that was, in the golfing vernacular, a dog track.

Needless to say, I pointed out this disconnect and the lawn is now a stunning representation of the Brand's commitment to excellence. Did it help them land the job of seeding every field for the 2010 World Cup of Soccer in South Africa? You can be sure it didn't hurt.
Excerpt: [20] Ride Your Brand Through the Storm
An ice storm hit New York's John F. Kennedy airport on Valentine's Day, 2007. For the passengers of one particular airline, the storm was especially brutal.

That airline was Jet Blue Airways, a Brand with one of the very strongest reputations for customer service in an American industry extremely short on stars. It's been the subject of numerous case studies on effective Brand strategy and is known by people far and wide who've never even seen, much less traveled on, one of their planes. Their self-stated "simple goal" upon launching in 1999: "to bring humanity back to air travel."

Oops. A total of nine aircraft were stuck on the runway that Valentine's, far from the terminal, for up to eight hours. One of them carried "99 passengers…stuck for nine hours without food, water and clean bathrooms". For reasons not at all clear, Jet Blue was unable to do so much as roll up some stairs and let these poor people – hungry babies and all – off the damn planes.

Your Brand must be strongest when it is under the greatest threat. Imagine for a moment that Jet Blue, like most other airlines in the U.S., was not so strongly associated with outstanding customer service. That it had no substantial reserve of Brand equity in the minds of the current and potential employees who will be so vital to improving its fortunes. Imagine that for Jet Blue, the pool of top-notch talent dries up and their talented people start to leave. Now imagine how hard it will be for them to make a turnaround.
Excerpt: [21] Make them Want You
A smaller-than-ever cohort of young people is entering our labor market just as our workforce is aging like never before. These young people, the Millennials, look for meaning in their work to a degree considerably greater than previous generations. Making the situation even more difficult for employers is our continuing transition to an information-based economy, and the increasingly high levels of job mobility this shift gives to knowledge workers.

The Brand Foundation Filter

We know that a Brand isn't just a logo, website or advertising. And that the only synonym for "Brand" is "culture." Attracting and retaining the best employees is thus a matter of communicating, through the Brand Foundation, what that culture is. You have to tell your employees, over and over again, how their everyday work contributes to fulfilling the Foundation. Communicate in person and by proxy – by posting the Foundation on your website and office walls for all to see.
"Brand: It Ain't the Logo* is a must-read for marketing success in any hard-fought international arena."
Past President, PepsiCo Asia
"Packed with fascinating examples that back up its clear-sighted analysis of how to build your brand, and – just as important – how not to."
Senior Editor, PROFIT Magazine
"Frankly speaking, this is the best book on branding that I've ever read."
Former President and Chief Brand Officer, Workopolis
"Brand: It Ain't the Logo* should be required reading for anyone who sits around the 'big table' and for anyone who seeks to influence their decisions."
Associate Professor & Distinguished Professor of Marketing, Queen's School of Business Member, Canadian Marketing Hall of Legends
"If you want highfalutin academic analysis, look elsewhere. But if you want clear, convincing and actionable advice on how to build your brand, you've come to the right place."
Senior Editor, PROFIT Magazine
"The best, clearest, most sensible guide to the subject around."
Author, Small Giants: Companies that Choose to be Great Instead of Big
Editor-at-Large, Inc. Magazine